---
Linn's Stamp News - November 9, 1998
Lithuania issues its first hologram stamp
By Denise McCarty



Lithuania issued its first hologram stamp Oct. 9.
The stamp is part of a series that highlights the postal history of Lithuania. This series started Oct. 4, 1997, with a stamp showing a 1323 letter from Grand Duke Gediminas (Scott 585).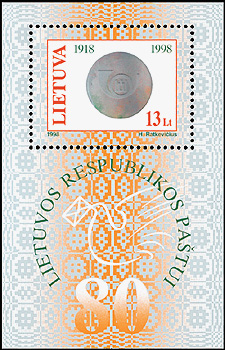 The first hologram stamp released by Lithuania salutes the 80th anniversary of its postal administration formed in 1918.


On Feb. 16, 1918, Lithuania declared its independence from Russia. The Lithuanian postal administration was founded Nov. 16 of that year. The hologram stamp honors the 80th anniversary of Lithuania's postal administration.

The hologram part of the stamp features the post horn emblem of Lithuania's postal service (Lietuvos Pastas).

The stamp is denominated 13 litas. In addition to the hologram it includes the year dates "1918" and "1998."

The latter year date also appears at the bottom of the design, along with the name of the designer of the stamp, H. Ratkevicius.

The stamp is by itself in a souvenir sheet. The border area of the sheet includes an inscription marking the 80th anniversary and a symbolic dove carrying a letter.

The Hungarian state securities printing office in Budapest printed 60,000 copies of the souvenir sheet by offset. In this printing process, an inked image is transferred from a plate to an intermediate cylinder, which prints it on the paper.

Lietuvos Pastas related some of its early history in the press release announcing the stamp.

According to Lietuvos Pastas, the first Lithuanian stamps were issued Dec. 25, 1918, in Vilnius (the capital).

The announcement says: "They [the stamps] were printed during one night on thick yellowish paper.

"The stamps had neither watermarks nor glue on them. The stamps of the two values -- 10 and 15 skatikai -- were printed in 5,000 copies each."

Lithuania also released another stamp in its Postal History series Oct. 9.

This 70-centai stamp salutes the establishment of centralized postal communications between Lithuania and western Europe in the 16th century.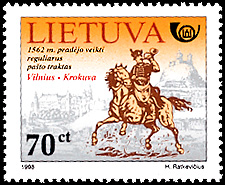 Lithuania commemorates the establishment in the 1500s of a postal route between the Polish and Lithuanian capitals on this Oct. 9 stamp.


The new-issue announcement provides the reason behind the need for this new postal route: "Sigismund Augustus, the grand duke of Lithuania and the king of Poland, was quite a rare visitor in the [Polish] capital Cracow.

"His love of the beautiful widow Barbora Radvilaite and public affairs did not let him leave Vilnius.

"So it appeared necessary to establish regular and effective post communications between Cracow and Vilnius."

Regular scheduled postal delivery between the capitals started in 1562. It took seven days for a letter to reach Vilnius from Cracow.

The service was so expensive, though, that only the king, feudal lords and rich merchants could use it.

The new stamp depicts a postal rider with his post horn. Buildings of the two cities are pictured in the background.

The post horn emblem of the Lithuanian post office appears in the upper-right corner of the stamp.

Ratkevicius also designed this stamp. The Spindulys printing house in Kaunas, Lithuania, printed 500,000 copies of it in sheets of 50.

The addresses of Lithuania's bureau and its agency in the United States are: Publishing Centre, Pasto Zenklas, Giedraiciu Str., 60a, 2042 Vilnius, Lithuania; Kent Research, Box 86, Hewlett, NY 11557.


Grenada-Grenadines




Both the Netherlands Antilles and Grenada-Grenadines also released their first hologram stamps this year.

The former stamp was featured in the World of New Issues column in the March 30 Linn's.

The Grenada-Grenadines issued a $1.50 self-adhesive hologram stamp Feb. 10 to honor the Year of the Tiger.

The stamp features a tiger. It was produced in small sheets of four.

A souvenir sheet containing a $3 stamp bearing the same tiger hologram also was issued at the same time.

The address of Grenada-Grenadines' bureau and its agency in the United States are: Postmaster General, GPO, St. George's, Grenada, West Indies; Inter-Governmental Philatelic Corp., 535 Fifth Ave., Suite 300, New York, NY 10017.




Hologram stamps and postal stationery

Country

Issue date

Scott No. and Description

Austria
Oct. 18, 1988
1441: made in Austria emblem hologram on stamp
Brazil
Oct. 14, 1989
2210: emblem for art biennial of Sao Paulo hologram on souvenir sheet
United States
Dec. 13, 1989
U617: space shuttle and space station hologram on postal envelope
Finland
Jan. 19, 1900
810-11: postal and telecommunications services emblem hologram on two stamps
United States
Sept. 19, 1990
U618: football players hologram on postal envelope
Hungary
Nov. 15, 1991
not listed in Scott: souvenir sheet showing coat of arms
Poland
Nov. 16, 1991
3056: butterfly hologram on souvenir sheet
United States
Jan. 21, 199
U625: same as U617 except with 29¢ denomination
Finland
May 8, 1992
886-88: tree holograms on three stamps
Canada
Oct. 1, 1992
1442: Earth and space shuttle hologram on stamp
San Marino
March 26, 1993
1280: satellite hologram on one stamp in a souvenir sheet with three stamps
Finland
May 6, 1993
postal cards issued for the Nordic Stamp Exhibition
Mongolia
Aug. 27, 1993
2139: dirigible over Ulan Bator hologram on stamp
Hong Kong
Feb. 15, 1994
holograms showing stamps (Hong Kong Scott 23 and 636) on picture side of two picture postal cards. The hologram stamps do not pay postage. An imprinted stamp is on the other side of the cards.
Isle of Man
July 5, 1994
553C: Queen Elizabeth hologram on stamp
New Zealand
July 20, 1994
1225: astronaut hologram on stamp
Bhutan
Nov. 11, 1994
1101: astronaut and space satellite holograms on two stamps in a souvenir sheet
Tonga
Dec. 14, 1994
870: satellite hologram on self-adhesive stamp in prestige booklet
Finland
Jan. 30, 1995
949-56: eight different cartoon characters holograms in booklet of eight stamps
Australia
April 5, 1995
1429-30: opal holograms on two stamps
United States
Sept. 22, 1995
U639: same as U617 and U625 except with 32¢ denomination
Malaysia
Jan. 10, 1996
577: satellite hologram on stamp in souvenir sheet
China
May 10, 1996
2448a: panda hologram overprinted in margin of 1993 souvenir sheet (2448)
Thailand
June 9, 1996
1671: Thailand king hologram on stamp
China
July 18, 1996
2530a: Universal Postal Union hologram overprinted in margin of 1994 souvenir sheet
China
Oct. 9, 1996
1987a: panda hologram overprinted in margin of 1985 souvenir sheet
Aland
June 9, 1997
137: ship hologram on souvenir sheet
Grenada-Grenadines
Feb. 10, 1998
2011-12: tiger hologram on stamp and souvenir sheet
Netherlands Antilles
Feb. 26, 1998
824: solar eclipse hologram on souvenir sheet
Lithuania
Oct. 9, 1998
612: post horn hologram on souvenir sheet

This is an edited version of a Linn's article that appeared in the November 9, 1998, issue of Linn's Stamp News. For the complete story, subscribe to Linn's Stamp News.

Note from Love Indonesia Philately:
The First Indonesian Hologram stamps is Ducks Series, were issued on October 19, 1998
See PHOTOS here!
---


Updated May 15, 2002